Welcome to

Mobility Friends
We are a international team of talented people with the objective of bringing the best results to the European projects that the organization participates with all its partners.
ANNOUNCEMENT
Make It Friendly
Event
Mobility Friends invite you to attend the 2nd Edition of "Make It Friendly"

We offer a Full Board and a Visit to Porto – boat trip by the Douro river Wine Cellar Experience – during the networking event.
Make It Happen – Take your place until 16th October

Further Information
info@mobilityfriends.org
REGISTER NOW!
MULTICULTURAL
Valueing multicultural and intercultural plurality, trying to have a flexible and dynamic behavior, ensuring the success of the undertaken projects.
SOCIAL INCLUSION
Fighting social exclusion of people from disadvantaged social classes, low education level, those with physical and mental disabilities, elderly and racial minorities.
ENTREPENEURSHIP
Encouraging the proactivity of employees and associates, to transform their ideas and their projects, in programs that are an asset to the community.
ANNOUNCEMENT
More Opportunities Less Differences


Project

Mobility Friends is proud to inform that our common Erasmus Plus Strategic Partnership for Vocational Education Training Project KA202 entitled "More Opportunities Less Differences", has been approved.

Congratulations to our Romanian
project coordinator and to our partners from Spain
Bulgaria
Turkey
Lithuania
ANNOUNCEMENT
Work Based Learning

Pathway to Youth Empowerment

Project

Mobility Friends is proud to inform that our common Erasmus Plus Strategic Partnership for Youth Project KA205 entitled "Work Based Learning – Pathway to Youth Empowerment", has been approved.

Congratulations to our Bulgarian
project coordinator.
ANNOUNCEMENT
Strategic Partnerships for
Vocational Education/Training Project
Mobility Friends is proud to inform that the Strategic Partnerships for Vocational Education/Training Project (KA202) – 2020-1-PT01-KA202-078592 entitled "SoftComInVET", has been approved by Portuguese National Agency


Congratulations to our Projects Department and our partners from Bulgaria
Spain
Italy
and Greece
ANNOUNCEMENT
The Challenges for

Innovation and Sustainability in Tourism

Project

OUR ERASMUS PROJECT WAS APPROVED!

Mobility Friends is proud and happy to inform you that our Erasmus Project N.º 2020-1-PT01-KA102-078163 called "The Challenges for Innovation and Sustainability in Tourism" was approved by Portuguese National Agency


During 2021 Mobility Friends will send abroad 45 students and 6 teachers from Barcelinhos Secondary School, Rocha Peixoto Secondary School and Esposende Profissional School.
ABOUT US
Mobility Friends is
the biggest

european organization in Portugal.

Since 2012, when Mobility Friends was founded, we had more than 13000 participants taking part in different kinds of projects, worked with organizations from more than 30 countries in the world, consolidating our reputation internationaly.

ABOUT US
A few things we're great at
At Mobility Friends we take action for our goals and values with the sense of responsability to a better future for everyone.
SOCIAL RESPONSABILITY
Developing an active sense towards social responsibility, human rights, multiculturality, interculturality and to the conservation of the environment and cultural heritage.
SUPPORT OTHERS
Our organization supports public and private entities, both national and foreign, in the development and implementation of policies related to every citizen's problems.
PROMOTE VOLUNTEERISM AND SPORTS
Our organization promotes volunteering as an opportunity for personal development and in the same time stimulates the development of ideas, projects and exchanges. We also promote leisure time activities in the areas of sports, culture and adventure.
EDUCATION FOR DEVELOPMENT
Our organization works in the social, cultural, environmental, professional, economical and business sectors, organizing traineeships, training activities, language courses, seminars, meetings, workshops and professional, study and cultural visits
KA1 PROJECTS
Learning Mobility of Individuals
For Key Action 1 Erasmus+ our association is certified both as host partner and sending organization, organizing different types of mobilities all over Europe.
VET LEARNER AND STAFF
Gain real life experience in a workplace or at a VET school.
SCHOOL STAFF
Study courses, observation, job shadowing, training, and teaching.
YOUNG PEOPLE AND YOUTH WORKERS
Youth exchanges; training/networking for youth workers; and Volunteering projects.
ADULT EDUCATION STAFF
Teaching/ training assignments and Staff training.
KA2 PROJECTS
Cooperation for Innovation and Exchange of Good Practices
The actions under KA2 make it possible for organisations from different participating countries to work together, to develop, share and transfer best practices and innovative approaches in the fields of education, training and youth.
SECTOR SKILLS ALLIANCES
Cooperation between education and employment in tackling skills gaps in a occupational profile in a specific sector.
KNOWLEDGE ALLIANCES
Cooperation between higher education institutions and enterprises.
YOUTH CAPACITY BUILDING
Supporting cooperation with Partner Countries to young students or workers.
HIGHER EDUCATION
Capacity Building supporting cooperation with Partner Countries.
Our Latest Projects
In this section are shown some of our latest projects from KA1, KA2 or EVS. For the complete list please check Projects page.
Statistics
Intercultural Association Mobility Friends in numbers.
PARTNER COUNTRIES
happy PARTICIPANTS
PROJECTS APPROVED
Testimonials
Don't take our word for it – here's what people say:
I met fantastic people at work and I've learned a lot. Now my English is better and even learned some basic Portuguese. I met a different culture and visit a lot of
places like the Guimarães Castle and the beautiful city Barcelos. Every evening we went to the ocean and admire the sunset. The Erasmus Plus project is a great experience and I hope in the future to come back here.
Ola K. and Ola S.
Participants from Poland
This project helped us to make a lot of friends and to learn a lot of things about our profession field of Tourism. We get experience that will help us in the future. We discovered new cultures, traditions, food, stories and unforgetable places. Another great thing about this project is the possibility to learn English at a higher level and even the chance to learn some basic words in Portuguese.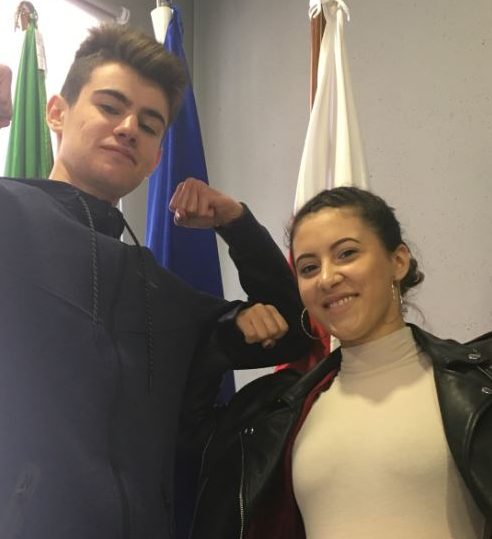 Andrei and Madalina
Participants from Romania
When I came here I was scared about how would I interact with new people but now I can say that these 'people' are my new friends. I am in love with the traditions and places that I got the chance to know. Making part of Mobility Friends helped me discover new opportunities for my future. I would encourage young people like me to participate in these kind of Erasmus+ projects.
Mirela M.
Participant from Romania